Welcome!

I am known in the Society for Creative Anachronism as Roxelana Bramante. Welcome to my web site!

I have been doing beadwork for almost all my life. In the past few years I have also been doing research into the historical aspects of beadwork prior to 1600.
For the most part, my research has centered on European beadwork dating from 1000 to 1600ce. For the past four years I have focused on documenting beaded flowers. I have written several papers to document specific items I have made for A&S competitions in the Society for Creative Anachronism. I was the Middle Kingdom A&S Champion for one year and won the Principality of Northshield regional pentathlon twice. I have put my research on-line in the hopes that others will not have to reinvent the wheel. If any of this information has been helpful to you I'd really like to hear about it - likewise if you find fault with any of it or need more clarification then is presented here.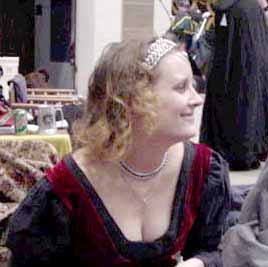 This site contains almost all my research and many pictures of my beaded creations. For a look at my current project (silk reliquary flowers like the ones created in North German convents circa 1500) please go to:
.